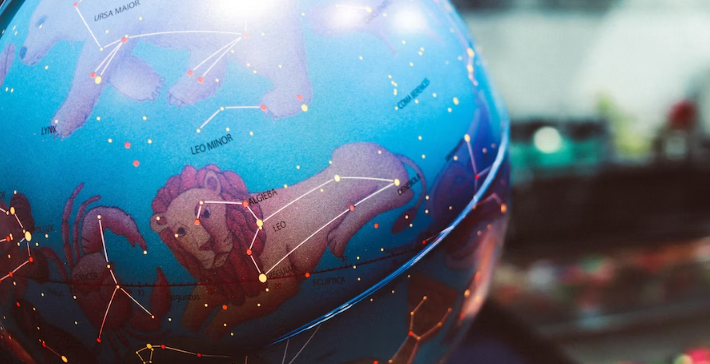 Summer is in full swing, the sun is at its zenith. The opportunity for the planets to boost beautiful energies.
Wondering what the stars have in store for you in the coming weeks? Discover without delay the August 2023 horoscope for all astrological signs.
The month of July was particularly intense. Change, need to reconnect with freedom, many questions have resurfaced. You thought you could breathe a little to enjoy the end of summer? Forget all that. In astrology, everything is movement, transformation, renewal… The month of August immerses us in a studious atmosphere. Like Virgo, whose season begins on the 24th, the planets seek to bring out our full potential. It is a question of reviewing our achievements to better realize the talent that lies within us. Between Venus retrograde which formalizes the season of ruptures and Mercury retrograde which plays spoilsport by causing some delays and communication problems, you will have to be diligent, conscientious and organized. Eh yes, even if it's still the holidays for some people, the start of the school year could come sooner than expected. So, to avoid unpleasant celestial surprises and anticipate cosmic gifts, it is better to read your horoscope. And by your horoscope, we obviously mean that of your astrological sign or sun sign, your moon sign and that of your ascendant to have forecasts that really look like you!
Aries Horoscope For August 2023
It's not the most interesting month of the year. This does not necessarily announce complicated weeks, simply that nothing too significant will come to animate your days. On the one hand, there is the desire to do well to refine your strategy and prepare your return to school smoothly. On the other hand, Venus in Leo and in retrograde pushes you to question everything. At the end of the month, Mercury (the planet of communication) comes to add its grain of salt by causing some discord. It will therefore be necessary to take care to stay the course, not to make waves. This month, it is better to play it delicately, and gently. It is by moderating your words and your desires a little more than usual that you will succeed in limiting the hassles and hazards. Give yourself a break, everything should start again with a vengeance at the start of the school year.
Taurus' Horoscope For August 2023
Taurus needs peace and quiet. He would like to be able to take time for himself in order to better refocus and anchor himself before this new school year. Problem: the stars give him very little respite. Mars (ambition, strength, action) and Mercury (communication) meet in Virgo, a friendly sign, to multiply opportunities. Doors open, opportunities arise, and new projects begin. Taurus has all the cards in hand to move forward. It is still necessary to succeed in seizing the ball on the leap. Faced with such excitement on the professional side, the cosmic beef could be overwhelmed. This could jeopardize their relationship with his loved ones. Be careful not to lose contact, not to let yourself be vampirized or worse, overwhelmed.
Gemini's Horoscope for August 2023
Gemini lets himself be carried away by the strong heat and above all he lets himself go. It's summer, and Venus in Leo (a friendly sign) convinces him to give in to all pleasures without asking too many questions. It could be ideal if the planet was not in retrograde… In the next few weeks, Venus could make Gemini a bit too spendthrift. Yes, he wants to enjoy it. No, it is not without consequences. In order not to find themselves deprived, once the wind comes, Gemini has an interest in curbing their ardor to begin to show themselves a little more responsible. In addition to this slight warning, natives of this sign are promised a beautiful end to summer. How? By predicting many opportunities to be seized in the professional field. His talent as a negotiator could thus be very useful to him to seal new agreements or to initiate a decisive turning point in his career. Same program on the heart side.
Cancer's Horoscope For August 2023
Mercury in Virgo allows Cancer to boost their career. Pragmatic and intuitive, the cosmic crab knows perfectly well how to pull out of the game to move a situation forward. It is positive in business as in love. The planet of the intellect promotes exchanges and makes negotiations more fluid. If he still had doubts about certain things, everything should be cleared up in the next few days. Better, he expresses his desires and has no problem making himself heard and understood. A turning point could then take place. Cancer takes control of his life. On the heart side, Mars and Mercury forming a positive aspect could create love at first sight. Cancer is fearless, he takes the first step and plunges into passion with both feet. It's as exciting as it is invigorating.
Leo's Horoscope For August 2023
He is swimming in full swing and is not ready to come down from his little cloud. Leo is always under the positive influence of the stars. The Sun gives him energy and boosts his creativity by inviting him to fully express his desires. Whether in relationships or in intimacy, Leo shines. Venus, although in retrograde, offers him a combination of charm and charisma that helps him seduce his audience. Everything Leo initiates in the coming weeks could thus have a positive impact on the months to come. Yes, now is the time to put your cards on the table to get the best results. Just watch out for the arrival of retrograde Mercury, which may slightly dampen your enthusiasm. Better to think about protecting yourself and strengthening ties rather than trying to consolidate new relationships. Less is more. We know it's not really Leo's philosophy, but there's always time to change.
Virgo's Horoscope For August 2023
It is high time for Virgo to learn to express themselves fully. Serious and diligent, she finally gains self-confidence. Between the support of Mercury, her favorite planet, and the help of Mars, Virgo dares to assert herself and impose herself. This translates into making rational decisions that could change the course of his story. Well in her life and in her sneakers, the Virgin then lets herself go little by little. She releases the pressure to enjoy her couple, her friends, and her family a little more. It's good to feel the unwavering support of the people you love. For the Virgin, the month of August has the taste of a sweet parenthesis. She then alternates periods of rest and idleness with master strokes that propel her to the head of daring projects. Commitment, realization, and risk-taking.
Libra's Horoscope For August 2023
Under tension in recent weeks, Libra is finally regaining its balance. Although in retreat, Venus, her fetish star which is none other than the planet of love, highlights her charm. She radiates Libra. Her sentimental life (re)grows and restores her self-confidence. Flirt, concretization, holiday love… If she must be careful not to rush (for the ring, we will wait at least for the third date, thank you), Libra benefits from a soft and pleasant atmosphere. What allows him to breathe a little after these last particularly intense days? The stress slowly evaporates. The situation emerges crescendo until the arrival of Mars in its sign, on August 27th. Libra is slowly getting back on track. This is good news, especially as the start of the new school year approaches.
Scorpio's Horoscope For August 2023
Scorpio is invited to step out of their comfort zone. The planets push him to review the way he organizes his daily life to make him evolve toward a life that is more like him. Mars and Mercury in Virgo thus ask him to be a little more honest by assuming his desires without fear of being judged. Freed from weight, the Scorpion will then be able to move more easily towards the goal he dreams of reaching. The planets silence his doubts. More confident, he will then dare to impose his signature on projects, will take the lead in an impossible mission or, better, will finally confess to his crush all the good he thinks of their little story. This may be the start of a beautiful romance. You still have to get started and believe it. Will Scorpio be able to do this?
Sagittarius Horoscope For August 2023
Like Gemini, Sagittarius might have a slight tendency to overspend. In the coming weeks, we will therefore have to be careful and monitor our finances more carefully. That said, Sagittarius has better things to do. His mind is preoccupied with his sentimental life which takes over from his professional life. It's summer, the last sign of Fire wants to enjoy, needs to express itself, to live a whole host of experiences. "We'll think about the start of the new school year, but for the moment, we're taking this boat and we'll see where it takes us", he will tell you, closing his backpack before flying off for his eighteenth week of holidays and kiff. Mercury in Virgo, then in retrograde, makes him think and helps him find the right words.
Capricorn's Horoscope For August 2023
Now is the time to take stock of recent events. Your past is gaining momentum and could more intensely influence the course of the weeks to come. The planets help you to see more clearly, to get your head above water to move forward with a more serene mind. This will make it easier for you to find solutions. It's time to refocus, to focus on your own destiny. You don't have too many questions to ask yourself. Everything is rolling, the stars are in charge of promoting your talents and placing the right allies in your path. Fine-tune your strategy by thinking about giving yourself small recreational breaks to release the pressure. Your career and your wallet will thank you!
Aquarius Horoscope For August 2023
The planets challenge you by asking you to organize yourself and above all to take your responsibilities in hand. No more gambling or always beating around the bush. We will have to make decisions, even when it is not easy to assume. So take the time to ask yourself to weigh the pros and cons. The month of August is a good time to slow down to try to take another look at the situation. Mercury (communication) and Mars (action) require you to be more thorough. Avoid rushing at all costs, it won't do you any good. On the professional side, you have to expect some setbacks and delays in the progress of certain projects. No need to panic, just organize yourself to get out of business. On the heart side, take the time to listen to the needs of the other. must be exchanged,
Pisces Horoscope For August 2023
This month, you are particularly in demand. On the one hand, you have to move forward, work, put down your pawns. On the other hand, your receptivity is such that you have only one desire: to dream of a better world without pressure. We will therefore have to navigate between imagination and reality to find the right rhythm and the right formula. The one that will allow you to put your artistic talents to good use while ensuring your future. The planets ask you to make choices, to be pragmatic and organized. It's not really the Pisces type, so it can be a bit tiring. Fortunately, you will find the necessary support and all the comfort you need from your loved ones. Be flex, be flexible and you should be fine.